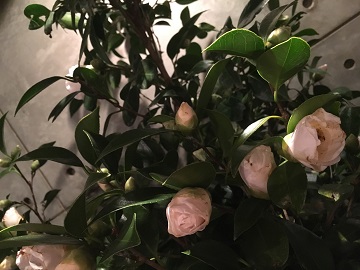 白い寒椿を活けました。
見惚れるほど立派な枝木に、豊かに蓄えられたツボミ。

厳しい冬のさなかに咲く清らかな美と
そのつややかな力強さに、心洗われぬ人はないでしょう。


「あたしは
この白椿のようになりたいといつも思っています」
- 夢野久作 『白椿』
怠け者の女の児が、白椿に憧れて入れ替わる…
そんな幻想的なおとぎ話を残した作家もありましたが、

暦は立冬。冬の始まり。そして今年も既に残り2カ月…
真面目にやろうと思います。
"I wish I were this White Camellia.."
Kyusaku Yumeno ;A fantastic nobel writer, and also Zen priest who is known to those in the know wrote this line at his work.

Camellia is generally called TSUBAKI in Japan, and which is one of the most popular winter flower. Lots of Japanese people love this flower how it's neat, clean, and so strong as well.
---
- Bar Kirkwall - バーカークウォール
広島市中区流川町2-22 インリペアル1st 2F
082-249-2140
www.barkirkwall.com
18:00〜4:00 Last Entry 3:00 - 不定休 -
---