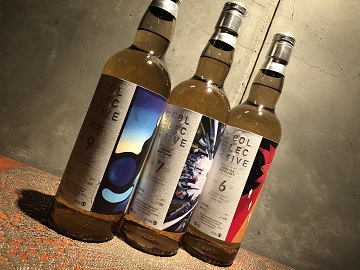 Le Maison Du Whisky "Artist Collecive"
フランスの有名なブランド代理店、メゾン・ド・ウイスキーから発表された新しいライン"アーティストコレクティブ"。第1弾のリリースは6本のシングルモルトがリリースされました。取り急ぎ、その内から3本をご案内します。
アイラ島(カリラ)、マル島(レダイグ)、東ハイランド(アードモア)と、生産地域の異なる蒸留所から、すべてピートを焚いたスモーキーなシングルモルト。いまの時代のながれを抑えた素敵なチョイスです。いずれも熟成は10年未満と若いですが、品のある完成度の高いバッティング(スモールバッチ)で、価格もまずまず。
比べてお楽しみいただくのも一興かと思います。それぞれのスモーキーな個性が見つかるかも知れません。ぜひともお試し下さい!

3 bottles of Artist Collective by LMDW🇫🇷 - They are all peated style single malt from each different regions;
・CAOL ILA 6yo(2010)
 43% abv. from 6 Bourbon Hogsheads
・LEDAIG 7yo(2010)
 57.1% abv. from 7 Bourbon Hogsheads
・ARDMORE 9yo(2008)
 43% abv. from 8 Bourbon Barrels
Ardmore 9yo(Eastern Highland), Caol Ila 6yo(Isle of Islay) and Ledaig 7yo(Isle of mull). The price is decent.. for these days, and I'm sure that it's reflecting LMDW's classy sense of bottling. and maybe You could find the difference between their peated flavors... It's worth trying, I hope you like them!
---
- Bar Kirkwall - バーカークウォール
広島市中区流川町2-22 インペリアル1st 2F
082-249-2140
www.barkirkwall.com
18:00〜4:00 Last Entry 3:00 - 不定休 -
---